How We Create Our Custom Bands
deSignet International
---
A Special Thank You to all of our Customers who came to our shop from all over the USA and abroad to create their unique lifetime treasures with deSignet International. Thank you also to those who took time to write their testimonials and let us know how happy they are with the deSignet's Custom Jewelry!
We are the manufacturer and can accommodate most ANY unusual requests. Your rings might have your initials, a special symbol or phrase, a cross, interlocking hearts, or a combination of symbols, most anything! Below is just one example, but virtually anything is possible!

I. Customer's E-Mail
Here is the original e-mail from one of our customers who was interested in Custom Claddagh design for the wedding bands:
"..... I'm interested to know if you have any idea on how I might be able to incorporate the following into a ring: I am using the theme "Janet and Trevor united by Christ" with the logo looking somewhat like this: Janetrevor (please note that the "t" will be a crucifix or cross and not a "t"). Any possibility or ideas? I am not "locked in" to the idea of a Claddagh band, but perhaps you have some ideas. Please let me know if you have any questions........Janet"
II. Creating a Sketch
Based on the provided information, we create a sketch, and e-mail it to the customer for the approval :
III. Developing a Graphic
After approval of the sketch our designer develops the final graphic which later would be used to create the final product :

IV. Creating a Final Product
Once the final graphic is approved by the customer the item is normally shipped UPS or US Express Mail (customer preference) insured within 4-5 weeks. Platinum orders require more time and are shipped within 5-6 weeks. And here is how Janet's Custom Claddagh Wedding Bands look like: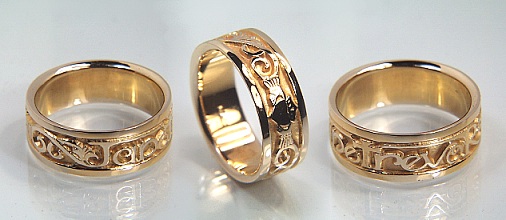 We are very pleased to hear from our customers about the product they receive. You may visit our Customer Testimonials page to learn more about our work.
We pride ourselves on providing personalized customer service. If you would like to get a quote, please submit the Information Request Form. If you would like to order the product , you may call our toll-free number : 1-888-727-8266 or submit Order Form page. We will be happy to create a unique product just for you !

We gladly accept wire transfers, bank drafts, money orders, VISA, MasterCard and Discover (sorry NO personal checks, business checks or AMEX). If you prefer you may call our toll free number : 1-888-727-8266 with your credit card information to ensure privacy and security.

Please note: Although we make every attempt to keep our site current, prices are subject to change without notice. All rush fees, custom items and shipping are non-returnable. Stock items are returnable within 30 days but a restocking fee does apply. All rings smaller than size 5 and larger than size 12 are considered custom orders and are non-returnable. Please see our FAQ's page for more details. Shipping daily using UPS which is insured and requires an adult signature.
---

Copyright © deSignet International, 2000-
Last Updated: 09/04/03
1869 Whitehaven Rd, Grand Island, NY 14072
1-888-RARU-COM or 1-888-7278266